Documents Processing / Management
Modular InfoTech has experienced resources, well-defined processes and necessary infrastructure to provide the Documents Processing/Management services to end users. Modular InfoTech staffs experienced professionals and experts on document scanning, Imaging, OCRing, and indexing. Our production processes are streamlined and benchmarked with industry standards for producing quality output deliverables. Modular InfoTech understands customers' requirements of outsourcing the services and customizes its well-established processes to cater to the needs of individual customer if so required. The processes are proven and refined to minimize errors caused by human interventions. The processes include stringent Quality Control procedures, which ensure deliverables with highest accuracy levels as per individual customer needs. We are consistently meeting our schedules and budgets and have delivered output with accuracy levels of 99.95% to our customers.
For over 10 years Modular InfoTech has a Documents Processing/Management division at Pune and a Branch Office at Singapore and Hong Kong where, the company has done the work of digitization for Indian and International clients. Modular InfoTech was awarded a contract to digitize over 1.3 core pages of legacy books and dictionary manuscripts by the well known Research Institute.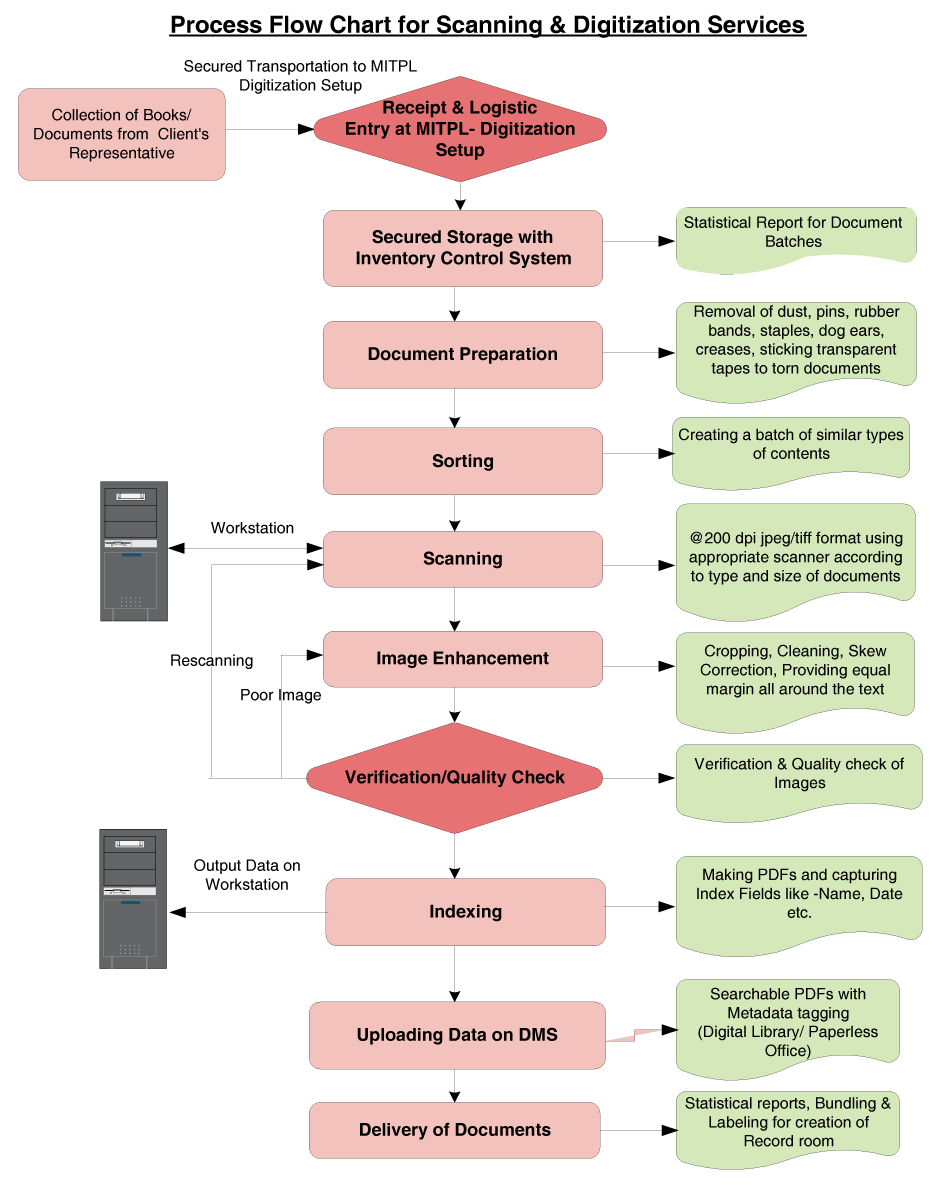 Advantages of Digitizing Documents with Modular InfoTech
Document Image retrieval instantly without physical lookup resulting in increased productivity.
Manage and Search your files from your desktop.
Disaster Recovery: Scanned Documents can be preserved to survive disasters like Fire, Accidental or Intentional deletion etc.
Scanned documents can have restricted access depending on access-rights.
Ease of integration with DMS, Workflow and ERP Systems.
Multiple access to the same document is possible.
Outsourcing the Scanning job to a professional third party reduces cost and time with increased focus and quality of the output.
Customer benefits from the expertise of experienced professionals and developed processes and technologies.
Our simple and clear approach which attempts to make customers satisfaction as our highest priority.
We believe in honesty and trustworthiness.
Process
Document Preparation for Scanning
Document Scanning
Image Enhancement
Format Conversion
Indexing and Meta-Tagging
Document Management System (DMS)
Document Preparation for Scanning
Staples, pins, threads, rubber-band etc. are removed.
Proper page orientation is performed to reduce post-processing.
Related documents are grouped together.
Documents are arranged and sorted in the customer-specified order for scanning.
Dog ears and creases, if any, are removed.
Torn Documents are corrected by sticking transparent tapes.
Document Scanning
Done at your or at our site. (Onsite or offsite)
Capture contents of document in Digital Image and stored on CD, DVD or any other media.
Historical and Fragile Documents scanned with great care.
Books scanned without damaging the binding.
Large format (A3,A2,A1,A0, blueprints, drawings, maps, etc.) scanned in B/W, Gray or Color format.
Slides and Negative Scanning is performed.
Scanning of Newspaper pages for archival and indexing.
Image Enhancement
Reduction / removal of undesirable background noise.
Despackling of Images.
Background Equalizing.
Adaptive and Localized Thresholding.
Border Cleaning and Removal of punch/staple marks.
Adjusting Image Brightness and Contrast and Sharpness.
Document Skew Removal.
Cropping of Image.
Scratches and Spots Removal from Document-images, pictures and slides.
Image-Restoration and Color Balance is performed.
Processing of text and pictures differently.
Image is corrected for barrel, pincushion, curvatures and perspective distortions.
Format Conversion
Perform OCR on the scanned image (of document in English language) so that its contents are searchable.
Pack all related Documents in a PDF file.
Encrypt the data with user specified password for security and restricted access.
Perform XML tagging as required.
We undertake text translation projects of many specialized domains.
Indexing and Meta-Tagging
Data Entry done as needed by the customer.
Scanned Image files are renamed as per the desired sequence.
Relevant / User Specified Data fields are captured and entered into the database of DMS.
The Document is thus indexed and cataloged.
Document Management System (DMS)
Facilitates Document Storage and Retrieval.
Security: Allows Document viewing, printing, copying etc. as per access-rights given to the operator.
Supports various Document formats, .TXT, .DOC, .PDF, .TIF, .JPG, .CDR etc.
Supports various Multimedia formats, .WAV, .MP3, .MPEG, etc.
Online Document Reader: Native application is not required to open the Document.
Content search available.